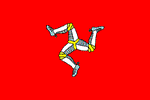 Isle of Man TT
2007

Still more fatal accidents now killing spectators and injuring marshals and abysmal customer relationships on the Island and in its travel infrastructure can bring the Isle of Man TT to an end. "No soul, no conscience and no enthusiasm except to grab money" say many who will not go again.
It took 100 years of TT Racing in the Isle of Man to build up the enormous world wide store of goodwill and enthusiasm that overrode the acceptance that although close to 300 competitors have been killed, half as many again maimed and many inflicted with long term permanent injuries it was all part and parcel of motorcycle speed sport in its ultimate, and most dangerous form.
The motorcycle fraternity regarded the Isle of Man as their Mecca – somewhere that every enthusiast had to visit once in a lifetime no matter what the privitations imposed by the Isle of Man Steam Packet ferry service or the appalling boarding house and camp site conditions. The fact that the island provided a sport in the extreme and cheap hospitality built the TT's not always enviable reputation as TT Supporters often died in road accidents in considerable numbers.
It took just a week of Centennial Celebrations when Manx Hotels, Restaurants, cafes, pubs, boarding houses and camp sites all having been positively directed by the Isle of Man's Government literature to "plan and prepare for economic opportunities" proceeded to rip off all the TT visitors and for all the years of goodwill to melt away.
A full English breakfast at one Douglas Café leapt from £3.50 to £7.50 overnight as TT week dawned. Hotel accommodation booked a year ahead was released to longer stay calls with last years B&B at £30 leaping to £85 and £21 hardly bought a main course at restaurants where it had been £14 days previously. Pubs cranked up the price of a pint and fast food stalls had to maximise against the huge ground rents being charged by Government and local authorities. £3000 bought a tiny pitch behind the TT Grandstand.
In its final moments the TT organised by the Manx motorcycle Club committed the cardinal sin of all when a racing motorcycle crashed killing two spectators and smashing two marshals into casualties of extreme injury. It took a dozen deaths for the Italians to terminate another extreme road race the Mille Miglia when a car went into a crowd including children.
The latest TT fatalities indicate just what a 200 mph machine at near maximum speed on public roads can do when disaster strikes.
No Health and Safety "Risk Assessment" or "Investigation by the Organisers" can reduce the horror of such an accident. Already TT spectators are being confined to "safe" areas and where they can get on private land they are now being charged £5 a day. Further confining will greatly reduce the appeal of the TT where on course viewing was always free. But then a crashing machine was not already a lethal projectile.
On the TT course nothing can remove the possibilities of death and destruction by a rider losing control, making a minimal mistake or having a minor mechanical defect in the middle of a high speed bend surrounded by stone walls and street furniture. Such a crash is similar to an aircraft "going in". The dissolution of rider and any hit by the machine and its debris is as certain as the fact that it will happen if the TT continues in its present form.
That the Manx organisers lack soul, solid enthusiasm and above all imagination in developing the TT for the next decade let alone century was evident at every part of the Isle of Man I visited and spectated from during TT fortnight.
A petty row about tyre regulations was "rescued" by the weather but it postponed the start of the first days racing and so the Saturday programme became Mondays and Monday moved to Tuesday and Wednesday stood leaving the 1000 + volunteer workforce of marshals and off course workers confused and angry as they had to "stand up" continuously and many had hoped for holiday activities and socialising on non race days.
Nothing was more evident of Manxland incompetence in control and management than the opening event of the Centennial TT. This involved some few original 100 year old machines and a total of 100 rather nondescript vintage bikes and riders who were to ride twice around the original TT course of 1907. The roads were closed for the event that meant that no other motor vehicles could use or be parked on the course.
An abandoned UK registered vehicle had to be uplifted where a man with a flag could have provided sufficient warning as it was in a very visible place and naturally the Manx folk of Peel Town had left there cars street parked where the always had well knowing that the Manx Police have withdrawn from enforcing Road Closing orders
And so the Controllers flapped like hens in a fox raided pen while the organisers fumed and wished to satisfy the huge gathering with a start.
After all they had a point for both the Pioneer run for pre 1914 machines puts 400 motorcycles out on the Brighton road with normal traffic and so does the Banbury Run which the Centennial Lap organisers also run very successfully.
Time ran out to the point where the event was in danger of being cancelled simply because the Controllers saw problems that did not in reality exist for no one on an old bike was going to ride in a risky manner.
However, one lap was achieved and the centennial had laid its pathway towards argument and aggro! The first event was reduced in effectiveness by a nonsense.
With the movement of the main TT events the Parade Lap of 100 old TT riders scheduled for the Monday was put back to Tuesday when some dozen had, perforce of their ferry bookings, had to leave the Island, Replacements were not allowed for reasons still unclear but each rider who left lost his £100 entry fee and all spent on fares and travel plus accommodation.
It was not a commendable TT. A programme already paid for by advertising sold for £10. So many books so much literature so many official souvenirs with profit to the Manx Government allegedly to be used for future TT's but most likely to reduce what must be an astonishing expenditure deficit that will see the department of Tourism and Leisure crucified by the Manx Taxpayer when the figures are published showing expenditure against profit.
The only original TT behaviour took place at a farm at Gob y Volley where the farmer not only provided makeshift platforms for better viewing but refused all offers of payment and sent round huge trays of sandwiches to those spectators fortunate enough to be behind his stout walls. Here we had great enthusiast's competent knowledge and huge respect for the riders coming through Quarry bends like exocet missiles and heading for the 200mph speed trap along Sulby Straight.
Here I talked with 70 year old Masaru Kobayashi who when young had designed Honda four and six cylinder race engines for Mike Hailwood and Stuart Graham to ride. He had seen Honda come from copied design features from European makers to lead the world in cars motorcycles and every form of internal combustion engine and with the noise of the modern rocket bikes whizzing by we evolved a new TT race. It was simple in concept and went back to 1907 and took in the concept of the Schneider Trophy Air races of the late 1920's and early 30's where you had to win three consecutive races to take the prize.
For consideration here is what was evolved.
The TT "Challenge" would have a prize fund for the winner of £1 million. This would be awarded only after 5 years and to the winner of not less than 3 races.
It would be a six lap race for motorcycles fuelled by a measured five gallons of fuel be it unleaded petrol or Diesel. All fuels would be drawn from the same source.
Machines would be rejected by a technical committee of qualified engineers if thought not to be constructed to safely cover six laps of the TT Course
No engine could be less than 350cc or more than 500cc. Any rotary engine could not displace more than 500cc. Electric and Fuel cell machines would be allowed as a separate development class again subject to the simple rule will they get round six laps without danger. They would have a separate annual prize. Fuel would be limited to a level to be determined.
Over a five year period it would be accepted that the TT Challenge would be to make motorcycles again the economic and technical leaders in engine economy development. This would involve the environmental lobby as emissions would have to be minimised and fuel economy maximised
The technical nature of the engineering involved would have to be on economy but still with the ability to win the race.
It was visualised that the first year would see race average speeds of 80mph rising to over 100mph in five years. In consequence the TT would be seen as reprising the values that saw it called the Tourist Trophy with emphasis on fuel consumption rather then pure speed. The Isle of Man would be the focus of environmental interest and the creation of a new breed of engines would spread to all forms of transport. Imagine such a proven engine with 100miles per gallon ability in the Chinese market place!
Other races could continue but the TT Challenge would attract major media and public attention and as Mr Kobyashi said "We cannot go on chasing absolute speed. It is unusable on public roads and achieves nothing except massive fuel consumption and the sheer bravery of the riders. It is now frightening to spectators. We must now go back to using as little fuel as possible and engage the brain power of the world's engineers to see if they can win the Challenge."
It would certainly be a proper way to start a new century of TT endeavour and to forget a bad Centennial year..
By Allan Robinson Copyright reserved.